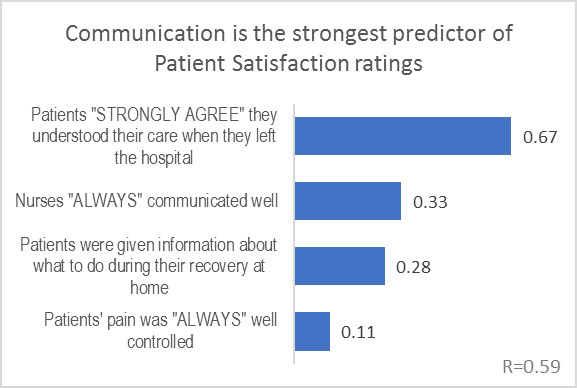 Matthew Cluck, Attadale Partners
Healthcare providers are becoming ever more consumer focused. As hospitals compete for patients and reimbursement increasingly depends on performance, patient satisfaction plays a more central and strategic role in healthcare delivery. Recent analysis by Attadale Partners even suggests that patient satisfaction is the biggest driver of the controversial CMS hospital star ratings [1].
As hospitals learn how to compete in this new landscape, strong patient communication is a key differentiator. Using statistical analysis to dive deeper into the sub-attributes of patient satisfaction, we identified that the single most important driver of patient satisfaction is whether the patients understood their care when they went home. Of 17 sub-attributes, four measurably impacted patient satisfaction, and three of those four measure how well providers communicate with patients (see Figure 1). Despite the limited number of sub-attributes, this cross-validated model explains 60% of the variation in a hospital's patient satisfaction score.
Interestingly, our model demonstrated effective communication by nurses is more impactful than by physicians. This may seem obvious to America's nurses, as their roles find them serving on the front line of care delivery, but for administrators it may influence prioritization of communication and patient interaction training. These data should not exclude doctors from actively participating in the education of patients on their post-acute care requirements, and coordinated communication with the nursing team could enhance performance better than either role in isolation.
On the remaining 13 sub-attributes not yet discussed, several, such as room cleanliness or quietness, are expected by patients as basic performance requirements. Meeting these expectations does not generally reward a hospital above its peers, but satisfaction suffers if hospital performance is sub-par. There are several important communication factors within these remaining 13 sub-attributes – further emphasizing the importance of communication. If your hospital is struggling on these additional communication attributes, this is likely hurting your patient satisfaction, and may even be dragging down your CMS Star Rating.
Tactically, one of the best ways to ensure strong communication is to focus on having a dialogue, rather than a lecture. The most reliable way to ensure that patients understand their care is to get them to explain things to you. Asking directly if patients know what to do at home often receives a quick "yes" from patients who are missing vital information, or are misinformed on key points. By contrast, providers can begin to understand what patients know by asking them what they need to do when they return home, and can better communicate based on two-way conversation.
There is much providers can do to make sure patients understand their care. Many patients defer to their clinicians and are hesitant to ask questions. This is especially true if the provider appears rushed, or if the nurse has not previously developed a relationship with the patient. Actively engaging with patients and encouraging them to seek clarification in addition to providing written instructions and guidelines can improve communication. The act of sitting down with patients and caregivers in advance of discharge to discuss potential needs, such as picking up medication or scheduling return visits, can have a surprisingly large impact. Incorporating this into the discharge process and reinforcing the practice with a simple periodic message to staff will keep communications keno patient-centric.
While communication with patients is often both time consuming and challenging, it is critical in patient care. Health care is ever more patient centered and providers who invest the time and resources to build relationships throughout the period of hospitalization, including effective communication are more likely to succeed.
Details on the statistical model above can be found at attadalepartners.com. You are also invited to contact Attadale Partners to learn more about this research and how effective communication may influence your hospital's performance.