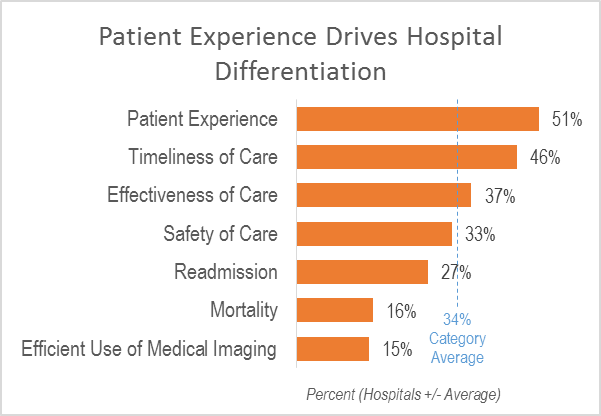 Matthew Cluck, Attadale Partners
Regardless of your view on the controversial CMS (Centers for Medicare & Medicaid) hospital star ratings, the agency has made it clear that they're here to stay.  This has left many hospital leaders wondering how to compete – especially since nearly half of all hospitals have a three-star rating.
Analysis by Attadale Partners suggests the biggest driver of star ratings is patient experience. CMS evaluated 4,604 hospitals across 64 quality measures in seven categories. Patient Experience was the category with the most differentiation, with 2,343 hospitals (51%) performing either above or below the national average. Efficient Use of Medical Imaging was the least differentiated; only 700 hospitals (15%) scored above or below average. Across all seven categories, an average of 1,548 hospitals (34%) are outside the average (Figure 1).
"This is yet another piece of evidence that a strong patient experience is one of the most impactful ways for a hospital to compete," says Attadale's Managing Partner, Geoff Colgan.  "Developing new services, partnerships, or medical programs remains a critical part of serving patients well, but these can be costly and take years to implement.  Many clients are finding that simple changes like better communication with patients can make a bigger difference than most would have expected even just a few years ago."
Further analysis by Attadale reinforces the importance of patient experience to star ratings.  The seven categories CMS uses to calculate ratings are weighted to generate an aggregate score.  Four categories are each weighted at 22% of the score, while the remaining three only count for a combined 12%.  While the other three highly weighted measures – Safety of Care, Readmission, and Timeliness of Care – could have as big an impact as Patient Experience, they don't.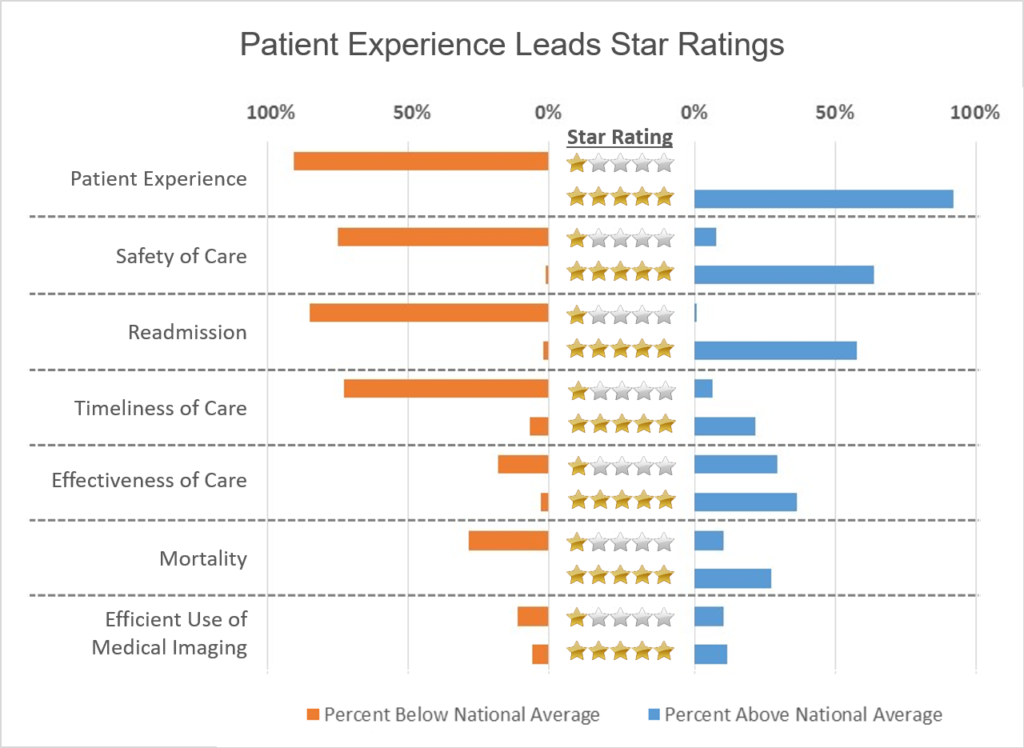 91% of 1 star hospitals have below-average patient experience, while 92% of 5 star hospitals score above average.  No 5-star hospitals are below average on this measure.  Compare this with the other three top measures, where 78% of one star hospitals are below average, but only 48% of five-star hospitals are above average.  For low weighted measures the difference is even less significant; 19% of 1 star hospitals are below average, but almost as many, 17%, are above average (Figure 2).
Even though the system is designed to weight all of the top four categories equally, patient experience still ends up making the biggest difference to star ratings.  For executives looking to increase their hospitals' star rating, or even just stay competitive in today's healthcare market, patient experience should be right at the top of the list.